This page RP is a single fight. It takes place between the characters Hitoshi and Gamma. No outside interferences allowed however, things may occur due to stuff that happened in a seperate RP section. 
---
Hitoshi has managed to lure one of General Linus' members away from the others, and now he has confronted him in the forest.
Hitoshi -member of Eos
-The One-Eyed Ghoul of Solace


I'm not sure, how about you kill me a few more times and find out? -Extracts my Destiny Seeker and aims it at Gamma- I don't like killing people anymore, so don't make me have to kill you.
Gamma -member of General Linus' Squad




I guess once you kill over 200,000 people it can get boring -he slowly sinks into the ground and his hands grab Hito by the ankle and set him on fire-
Hitoshi -member of Eos
-The One-Eyed Ghoul of Solace


-Instantaneously, I pull foot back to avoid being grabbed while simultaneously activating Ren to greatly bolster my already superb superhuman abilities and output an enormous quantity of Nen. Next, I use Shu on my DS to significantly enhance it's abilities and then I bring it straight down on Gamma as he goes underground all in one incredibly fast swift movement that tears through the ground. Subsequently unearthing the ground below and around me as an enormous crater is formed at the point of impact with the aim to directly hit Gamma in the head with the blunt side of the DS. The resulting explosive force is enough to generate a slight shockwave across the area and completely decimate any nearby objects or trees.-
Gamma -member of General Linus' Squad




-one the ground is split and the debris clears, Gamma is revealed to have Hitoshi's DS in his hands before sending a large amount of force outward from his body which results in Hitoshi being blown back.- Gamma leaps into the air and gains the weight of 200 tons before coming back down on Hitoshi with the aura of a silverback gorilla around him.
Hitoshi -member of Eos
-The One-Eyed Ghoul of Solace


-As I am blown back, I ram my DS into the ground and magnetize myself to the ground with earthbending to completely halt my movement. As Gamma comes down on me from above, I quickly use Form Change on my DS using my technique Aura Burst through it to propel myself away from the point of impact at incredible speed akin to a rocket launcher to move myself more than 50 meters away from him. Once I stop moving, my left palm rips open producing a Ghost Shell. That is both invisible and undetectable to Gamma, and due to the vow and limitation imposed on it it's power is exponentially greater than normal. I use Form Change again, transforming the DS into it's Cleaver Form and I smack the Ghost Shell with significant force directly at Gamma from afar so hard that it's speed becomes exceedingly supersonic with enough power to obliterate anything within a 50 meter radius.-
Gamma -member of General Linus' Squad




-uses observation haki to detect the oncoming danger and uses tekkai to harden his interior and tanks the ghost shell resulting in him skidding back and coughing blood-
Hitoshi -member of Eos
-The One-Eyed Ghoul of Solace


-The explosion the Ghost Shell had generated was powerful enough to level the whole area and leave behind only a large empty steaming crater. A giant chunk of the surrounding forest was now missing, and smoke filled the air.- I suggest that you stop this foolishness right now and give up. I know that me and my friends, especially me have done some questionable things. But we're all good people who just want to change this world. There's no need for you to try to kill us. You can't beat me, and you definitely can't beat all of us, so for your own sake; just stop while you're at it.
Gamma -member of General Linus' Squad




-he simply just starts to laugh- I'm only just getting started -he starts to merge into the ground as stone and he begins to grow and rise as a giant being made of stone- Now, it's my turn -he hardens his fist and brings it down on Hitoshi with crushing force-
Hitoshi -member of Eos
-The One-Eyed Ghoul of Solace


-Sigh- Looks like I'm going to have to beat you down before I can change your mind. -Quickly does a backflip away from Gamma's attack before using Form Change on my DS so that it enters it's Gun Form. I then aim it directly at Gamma's head and use Machine Gun Volley to fire out a deadly assault of nigh-hypersonic explosive penetrative rounds of Nen bullets at him that explode after piercing into his stone body. With enough power to blow his body apart; creating a fireworks-like affect all over him. Their power is also exponentially greater than normal due to the vow and limitation applied to the entire technique.-
| | |
| --- | --- |
| | |
Hitoshi -member of Eos
-The One-Eyed Ghoul of Solace


-The stones would be blown almost completely apart, making them rather small and ineffective as they hit me. Before the giant hand could even touch me my highly advanced sensory perception would allow me to sense it's movement and I swiftly avoid it by activating my kagune, increasing my resilience and physical ability even further and I wrap my quinque steel-coated kagune around the arm in order to pull myself out the way of the hand and land on the arm. Once I land, I use Form Change on my DS changing it back into it's Cleaver Form before using a stronger Shu on my DS to further enhance it's power by coating it in my Ren before smacking the Iron Devil's Rage back at Gamma's face with massive force assisted by metalbending for further accuracy and power.-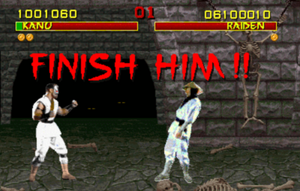 Hitoshi -member of Eos
-The One-Eyed Ghoul of Solace


Now I'll end this. -Quickly uses Aura Burst to generate a massive amount of force to knock Gamma's large right arm down and propel myself high into the sky above him. Next, I come flying straight down at Gamma doing multiple frontflips before using Form Change to switch to the Cleaver Form and smacking Gamma on the top of the head with significant force with the flat side of the Destiny Seeker empowered by Shu; generating a gigantic explosion at the point of impact and all around with the intent of knocking Gamma unconscious and leaving him in critical condition.-

Ad blocker interference detected!
Wikia is a free-to-use site that makes money from advertising. We have a modified experience for viewers using ad blockers

Wikia is not accessible if you've made further modifications. Remove the custom ad blocker rule(s) and the page will load as expected.