Eos is a small guild founded by Kiryso, Karasu, Hideki, Hitoshi and Aiden due to a "connection" the 5 felt upon meeting each other and is comprised of two main teams, Team Rasu and Team Ryso. The group mainly act in accordance to their goals which Karina stated to be "peace, unity, justice, vengeance and food", because of this they are seen to be reckless vigilantes who bring chaos wherever they are by higher powers.
The guilds public view is very controversial. The majority of the continent despises them for the Zero Hour event and Uchiha Massacre, both of which they were framed for. However, there are whispers of people who saw what they did at the Zero Hour event and respect them for fighting valiantly to protect themselves and the rest of the world.
Personality and Relationships
Edit
"
If we don't live together, we're going to die alone
"

—Karina to Hitoshi, Zero Hour Event
In general, the group is very close to each other, whilst some members display closer relationship to each other (Solo and Amanda) members of the guild still maintain a strong sense of trust. Members are often seen joking around and teasing each other (mainly teasing Hitoshi and Karina) and can find time for casual talk during the most dire of situations which shows their complete faith in one another.
However, the group is not without conflict. Arguable, the main source of conflict is Hitoshi. Hitoshi causes the most arguments (mainly started by himself) and is the most frustrating to work with, he has argued with just about every member with the group and butt heads with Kiryso on countless of times with their last argument ending in Kiryso telling him he would kill him if he ever saw him again (despite just reviving him).
Despite their conflicts, the group are usually in agreement most of the time and all have each other's best interest in mind seeing as they've all made promises to help one another achieve their goals.
Dusk Manor
Edit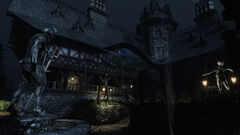 Dusk Manor is a sentient house constructed and built by Eli Dusk with the help of the first children, it acts as the home and the main headquaters of Eos.
The Manor currently posses a total of 12 bedrooms with 7 bathrooms, 5 toilets, a kitchen, a living room, a den, a large garden, hot spring, dojo, farm and many other things. It's most notable feature are the animal statues that represent each member in the front yard.
Dusk Manor posses a high level bounded field which keeps the place concealed and appears to constantly move the structure around the forest making it nigh impossible to find unless it wants to be found.
As stated before, the Manor is sentient and it was recently discovered that it could communicate with residents providing they believe it could respond. The guild nicknamed it Manny. Manny has shown the ability to create anything out of nothing and perform general house keeping tasks like cooking and self cleaning.
Team Rasu
Edit
Team Ryso
Edit